How to Make a T-Shirt Quilt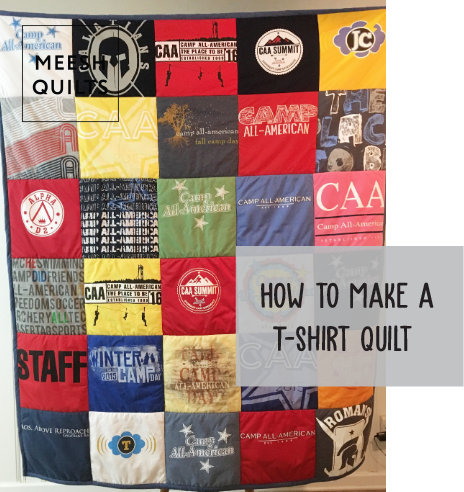 Everything you need to know to make your first T-Shirt Quilt!
Why T-Shirt quilts?
They are practical (we use ours nightly as we snuggle and watch TV).
They hold so many sweet memories (like that 9th tennis championship or the family reunion shirt from 10 years ago).
And they clean out your dresser while preventing textile waste.
…So now that you know how beneficial T-Shirt quilts are, let's get started…
Supplies You Will Need:
Cutting Mat- Anything that will allow you to cut on with a rotary cutter will work. This is the cutting mat I use and love.

Rotary Cutter

I use a rotary cuter for T-shirts that is separate from my fabric cutting rotary cutter. You can find one at just about any craft store. My favorite are the Olfa Rotary Cutters.

12 -1/2inch square quilting ruler

Here is the one that I use and that has worked great for me! You will want a clear one that you can use to center over the T-shirt graphic when cutting your squares. I have found this size to be best for most T-shirt designs.

Interfacing

Here is the interfacing I use. You may want a little thicker interfacing, as it makes it easier to work with. This will stabilize the T-shirt material and prevent stretching.

Fleece

Fleece is the backing of preference for me, but you can really use whatever you like. I love the coziness and the durability that fleece provides. I get my at either Joann's or Hobby Lobby, using a coupon.

Low- loft batting

This is another preference thing. You can make your quilt without batting, if you are using fleece and it will still be a cozy blanket. I just like a little bit of fluff to make it more quilt-like. Again, you can get this at any craft store or find some online!

Fabric scissors

Any good, sharp scissors will do. I use a designated pair just for T-shirts

Basting Spray- I spray baste, as I find it much easier and more efficient than pin basting. But you can do either. You can find spray baste at just about anywhere, but my favorite is the June Tailor brand.

Binding Tape- Double Fold Quilt Bias Tape

I like to use pre-made binding tape to give the quilt a finished look. I just like the thicker binding on the T-shirt quilts. I usually get mine at Joanne's or Hobby Lobby, or Amazon. Just make sure it is double fold extra wide.
Cutting & Prepping
Before I ever start cutting, I count through all of the shirts (front and back) that I want to include. I make sure that I have a correct number for a complete quilt . Meaning that the total number of squares can produce enough columns and rows. 20 shirts- 4 columns by 5 rows, 25 - 5 x 5, 30-5 x 6, and so on. When using the 12- 1/2 inch ruler to cut your squares, you will end up with each finished square measuring 12 inches. So keep this in mind, if you are going for a particular size.

Next, I use my T-shirt cutting scissors, to cut down the seams of the shirt to divide the front from the back, and tossing any scraps.

Next, using my rotary cutter, cutting mat, and quilting ruler, I center the ruler over the graphic and cut around the shirt, giving me a 12 1/2 by 12 1/2 inch T-shirt square.

Once all my shirt squares are cut, I then cut all my interfacing using the same ruler.

Then, I iron the interfacing (bumpy side down) onto the back of each T-shirt quilt square.

Next, is the fun part as you can layout the design and decide where you want each T-shirt square to be placed. I try to space out all the similar colors, but you can obviously design your quilt however you like.
Assemble Your Quilt Top
Once you have your design laid out, start with the first row, and take the first square on the left, place it right sides together with the next square and sew a 1/4 seam allowance along the edges. Continue this until all the rows are sewed together.

Next, sew each row to each other, right sides together, making sure that your seems are matching up as best as possible.

Once your quilt top is completed, you are ready to baste, quilt and bind!
Basting
The process of sandwiching all your layers together: the backing, the batting and the quilt top.
This is the method I have been using for about a year now!
Basting - check out this series of videos from Emily Dennis. It is saved to her highlights, labeled spray basting.
Quilting
Once your layers are basted together, you can quilt as you desire.

I simply use my walking foot on my sewing machine, and stitch in the ditch (sewing over all the seams). I sew the vertical seams first, then the horizontal.
Binding
This is the last step that finishes the edges of the quilt while holding all the layers together.
Binding- If you have never used double fold bias tape before, check out this video that helped me!

That's it! You're done!
T-Shirt quilts make the sweetest gifts and are the best way to cherish memories while cleaning out your dresser.
Please do not hesitate to reach out with any questions at hello@meeshquilts.com